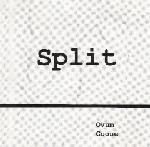 Zaft 017 &nbsp Ovum / Goose &nbsp Split
Track Listing:
Ovum: Turntable Turpitude
Goose: Symphony for Marimba Opus I
Hailing from Sweden, Ovum is the heir apparent to the throne of dark ambient that Lustmord has held for so long. Some of you may recognize him as the opening track on Merry Christmas. This was my first introduction to Ovum and it blew me away. Each of his releases have been amazing, and this is no different. This release is marked by Ovum's waves of drone that wash over you. Goose delivers the ambience that has come to be expected, only this time it is using a rather unorthodox sound source. The only sound source on this track is a marimba that has been treated beyond recognition into waves of soothing, and at times unsettling, drone. This is music to listen to in a dark, candlelit room.
Here's what Nicolas at Recycle Your Ears had to say:
Third CDR in the series of split releases on Zaftig Research, and this time again, the two participants are usual suspects (considering this label is part of the rising north Californian noise scene. Ovum, even though he's Swedish, has collaborated very often with American artists, and Goose is nobody else by Zaftig Research's founder. The recipe is known, let's see what it tastes like this time. Ovum's track lasts for half an hour, and he's strangely aggressive to the ears. This stuff must be listened to very loud (if you don't want to miss all the frequencies being used), but, this time, you'll also get some high pitched feedback that will prove to be quite painful to your ears. Apart from that, Ovum stays in his typical style, of very ambient repetitive drones, with maybe shorter loops than usual. Anyway, an encompassing track with a couple of sadistic moments, but good stuff. Goose plays for as long as Ovum did, and his track his also very ambient, but feature more heavier drones and more layers. A lot of echoes and reverb are to be used here, resulting in a spacey feeling that will appeal to those of you who liked the ".net" sampler or Ah Cama-Sotz's "U-Boot". Then, there isn't much to say about this, except that you are in the middle of a strange, reverberating and dark drone for 30 minutes. Once again, we get here good stuff from both band. Even though this might not be the best material I've heard from Ovum, Goose's track is better than on his split with R4. The only problem of this release may lie in the fact that you get only two tracks. But this really shouldn't be a problem for you if you're into deep long drone music.
Here's a review from PTR at Re:mote Induction:
Ovum - Turntable Turpitude: works on two levels, both coming across in a subdued manner. There is the swirl of particulate sound, that would probably be noise if it were a lot more pronounced, which works against the sighing motions of bass drones. The bitty sound fades off leaving the bass density as a solid drift, though there are momentary hints of fizz. While Ovum keeps this minimal for the most part, maintaining the ridge of bass, there are suggestions of intensity in that sound. which are realised by sudden rushes of shifted pitch, leading to silence then repetition. Slowly mutating to offer sustain, which is at times piercing. With time these plunging shifts start to interact changing the form of resulting sound, working into slight layers and long shallow waves.
Goose - Symphony For Marimba Opus 1: drawing out, momentarily hesitant, bubbling into a textured drone of wavering sounds. As this fluid tunnel reaches its deepest level we hear the most layers - fluctuations and notes. The flow shifts to thinner moments before gaining turbulent impressions once more. One can almost envisage a flowing dimensional surface, a 3D computer model described in sound. Sound which at times buzzes in my headphones with distortion caused by the level of bass. These twists become less pronounced, a certain acceleration leading to a more streamlined impression. The track changes between the wafts and streams while keeping a consistent palette.
This is the third in a series of split release from Zaftig Research. Coming as a CD-R limited to 50 copies and with art in keeping with the other releases in the series.