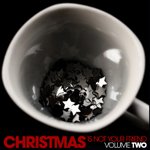 Various Artists: Christmas Is Not Your Friend Volume Two
Track Listing:
Flavien Gillie - Sa Belle Gueule Dans Les Journaux
Troy Schafer - Chicago Metra Rock Island Train Platform
Behold The Beast, For Which I Have Turned Back - Calculating The Number Of Animals Being Slaughtered In Order To Celebrate The Birthday Of The Son Of God
Cruise [Ctrl] - In The Heart Of A Circle Of Twelve Sycamores
Pigswill - Empire
Congregations - Hayley
Thee Virginal Brides - Slug Meditation
False Flag - All The Children Were Dead Or Crying
Stolen Light - Black Friday
Eric Boivin - Fading Beacon
Loopool - Sun Standing Still
Goose - The Day After Thanksgiving
Montreal No Orkestar - You Look So Good In Red Spandex
.cut featuring Gibet - Bleach Bride (Blank Blind Remix by Pine Tree State Mind Control)
Evidently the folks at Culture Is Not Your Friend! took some inspiration from the Zaftig Research Christmas compilations and decided that this sounded like a good idea. They emailed me and asked if I would like to participate. The answer was "of course!"